When the seasons change from Summer to Autumn, and it's starts to get a bit chilly outside, it's great to extend the outdoor season in the comfort of a conservatory. If you're thinking of building a conservatory, it's a good idea to consider how you're going to heat it, taking into account how often will it be used and for how much of the year.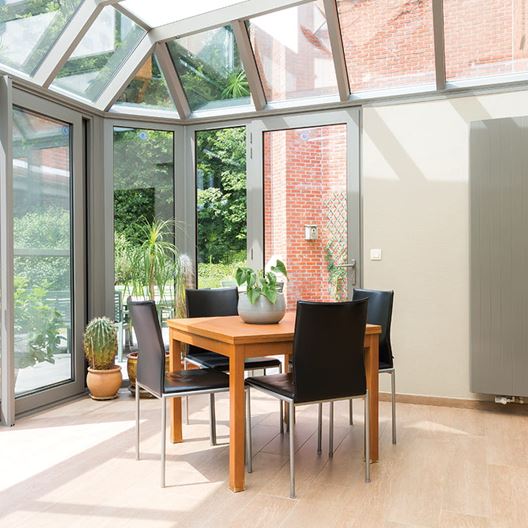 Underfloor heating or radiators in conservatories?
If you plan to use your conservatory all year round, underfloor heating is a good option, especially if you've planning using tiled floors. If you choose underfloor heating, insulation is vital. In order to be able to draw waterborne heat (from radiators or underfloor heating) into the space, the room needs to be insulated so that there is no risk of freezing.
If you have tiled floors, it's probably nice to have underfloor heating. Radiators, on the other hand, react more quickly, for example if you decide to use the room spontaneously and don't have it set to a comfortable temperature. Bear in mind that it can take 1-2 days to warm up an outdoor space with underfloor heating on colder days. Underfloor heating requires a well-insulated foundation of 250-300mm cellular plastic.
If the conservatory is less well insulated, and you are only going to use the space occasionally, you should install a heat source that provides heat quickly and easily and is not as slow-starting as underfloor heating. In this case, we can recommend electric heating, as it minimises the risk of the system freezing.
Electric radiators are a quick and easy way to install heating and can stop cold from windows. With modern thermostats they keep the indoor temperature even and comfortable, within a tolerance of 0.2 degrees. See, for example, the Rio Plan or Rio Linea electric radiators. If you heat your conservatory occasionally, using electricity is not a major expense. A 20-30 sq m conservatory can be heated in about 20 minutes. Electric underfloor heating can also work.
In addition to heating, cooling the conservatory is also important on hot summer days. Bear in mind that it is also a good idea to have a vent in the conservatory, especially if you have plants that may dry out easily in the conservatory.