If you work from home, it's important to consider the temperature of the room and ensure that it is comfortable to improve concentration and encourage creative thinking. Purmo offers a wide range of radiator models that guarantee thermal comfort in your home office.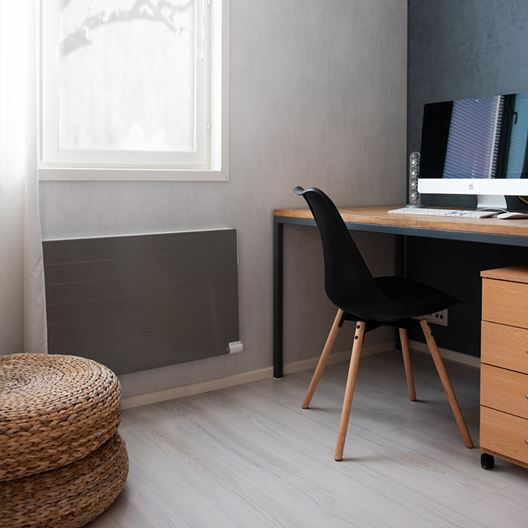 The development of the internet has opened up many opportunities for people. One of them is self-employment, which often means working from home. Professional freedom is especially appreciated by those in creative industries, for whom the basic (and often the only) tool is a laptop. Being a freelancer means being able to choose one's working hours and job tasks. However, it also involves understanding the art of business as well as self-discipline. For many freelancers, being effective in their work requires a comfortable home office. In addition to good lighting and ergonomic furniture, having an efficient heating device that ensures an optimum temperature throughout the day is essential. This is exactly what Purmo radiators are designed for.


A good option is the Purmo Delta radiator, which distinguishes itself by its classic look and the latest production technology. All parts are connected to each other by laser, which virtually eliminates the risk of corrosion. In addition, Delta is extremely easy to clean, making it ideal for allergy sufferers. The Delta model is available in a variety of sizes and colours.
Purmo Ventil Compact is an affordable standard steel panel radiator that can be mounted either on the wall or the floor. This model is available in a variety of sizes and output options, so making the right choice of radiator couldn't be easier. If you order Purmo Ventil Compact in a colour from the wide RAL palette or in another special colour, it will enhance the interior design of your room.

The Purmo Vido fan convector is another product that can guarantee an optimum temperature throughout the year in any home office. This innovative device is designed to quickly warm up the room during wintertime while provide a pleasant coolness during the summer. In summer, it is powered by a water cooler or a heat pump, which, when the circuit is reversed during winter, changes the function to heating. The Vido model features a fan that increases the heating power of the convector and also enables air circulation during cooling. Purmo offers a second generation of Vido, with a 24V DC motor and a fan impeller made of duraluminium instead of plastic. This means a significant improvement in energy efficiency and a fan that is even more quiet.
All Purmo radiators are suitable for low temperature systems.