Proizvodi - Novi proizvodi
VIDO
Heating & Cooling !
| | |
| --- | --- |
| The Vido is the first in a new generation of intelligent fan convectors. It has been designed specifically to combine all the traditional advantages of a fan convector with a range of new product features made possible by our latest energy efficient heating technology. | |
| More information... | |
---
LEROS M, new bathroom radiator with mid connection

The Leros bathroom radiator impresses with its modern styling of a traditional product, and its well thought out design.
The large diameter of the tubes (28mm) provide a solid and stylish appearance. The larger gaps not only provide for a striking design but give a practical solution to placing towels and cleaning the radiator.

Plus d'info...

---
New vertical design-radiators: Tinos & Paros!
Following the growing demand for designer products Radson presents 2 new vertical radiators:Tinos and Paros.
Two stylish designer radiators which can easily be integrated in both modern and traditional interiors. Both models have 2 striking product characteristics: The Tinos has straight square corners, while the Paros has rounded corners. The Tinos and Paros design radiators are available in type 11, from 585 to 1671 Watts (75/65/20) or type 21, from 886 to 2446 Watts (75/65/20) underlying heating panel.
As an additional major product characteristic both radiators can be mounted close to the wall (the distance between the wall and the rear of the radiator is only 10 mm). With a depth of 73 mm (for type 11) this means that the total distance from the wall to the front of the radiator is only 83 mm.Minimum depth for maximum comfort!
The Tinos and Paros radiators are available in 3 heights (1800 / 1950 / 2100 mm) and 4 widths (300 / 450 / 600 / 750 mm) which can all be combined. Besides, a stylish and useful stainless-steel towel bar is available as an option for more functionality.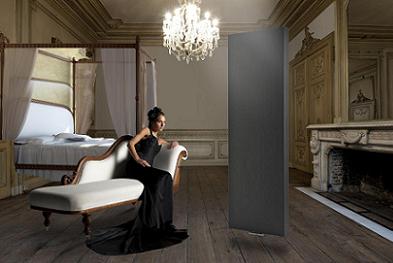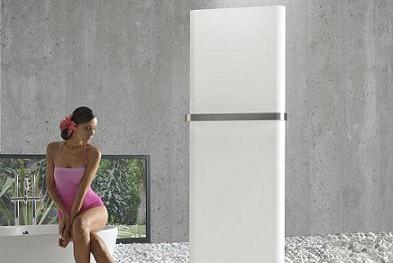 Tinos Paros
More info about the Tinos? Click here.
More info about the Paros? Click here.
---
Narbonne V + H
With its slender lines starting at 286 mm (4 el.), the Narbonne V is ideal for placement on a limited
wall surface.
The Narbonne H comes with a decorative top grill and side-cladding that is finished attractively.