Proizvodi - Pločasti radijatori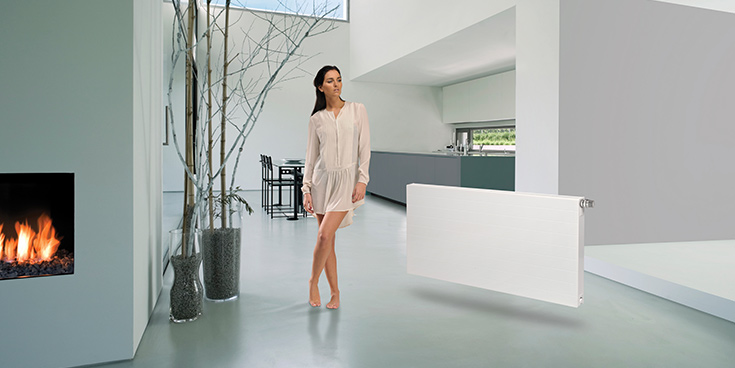 A compact radiator is provided with attractive top and side covers, offering protection as well as pleasing appearance. The compact's profile is also safely rounded. The piping is visible.

Pure aesthetics : the connecting pipe is concealed behind the panelling. This means the supply and return pipes can be hidden in the wall. Fine side and top cover finishing gives a restrained appearance without visible pipes.

Taut panel radiator with a concealed pipe system and integrated valve body. The Parada is characterised by its flat front plate, while combining straight side panels with an attractively finished upper grid.

Taut panel radiator also provided with a concealed pipe system and integrated valve body. The Ramo, however, has a sectioned front, straight side panels and a decorative upper grid.

The Vertical is ideal fo fitting where there is little space on the wall that you want or can use. The front panel is profiled.
1. Characteristics
All Radson panel radiators are produced with a cold rolled, high quality steel plate DC 01A according to EN 10130 : 2006.
Certain models have vertical profiles of 50 mm. Other are provided with a flat front.
Testing pressure 8 bar / Working pressure 6 bar
Working temperature max. 120°C.
2. Colours
Standard colour Ral 9016. Other colours available on demand.
3. 2-on-1
An innovative welding technique in combination with the specific shape of the radiator inner panel makes the Radson radiator unique. Radson indeed welds 2 convection fins on each hot water channel (2-on-1 principle).
This technique allows Radson to use smaller heating elements.
Result:
an exceptionally high heat output equally spread across the room
a lower water volume
a significantly faster heat up period
a low-energy use so more ecological
4. Heat output
Heat outputs were measured according to the EN442 standard, wtih a water temperature of 75/65°C and a room temperature of 20 °C (ΔT=50).
5. Packaging
The radiators are protected on 4 sides with cardboard, including corner edge protections. The radiators are shrink-wrapped. The radiator remain inside the packaging until installation, to prevent any damage. The entire packaging is recyclable.